Tour in Chicago can be an ultimate experience of your life if you choose best charter bus service for your large group. In Chicago land area you'll visit the heart of downtown Chicago, known as "The Loop." This area is filled with many world renowned architectural treasures, including the world's first skyscrapers! You can visit Lincoln Park, world famous zoo, gardens and back in the day, The Willis Tower, Millennium Park, The Magnificent Mile, the clubs and restaurants along Rush Street, Hugh Hefner's original Playboy Mansion and much much more.
Attractions of the Chicago land area which experience a great deal of tourism also have traffic and parking congestion.  However, touring Chicago with hiring a charter bus makes it possible to efficient use of time, parking facility, and also for the group stays together. More attraction can be cover within a day if your group doesn't have to deal with tourist traps.
Now days mostly passengers don't like old fashioned buses, these are all have been replaced by the new stylish charter buses. Many reasons are there why people attract by charter buses for large group transportation. People like to hire party buses for celebrate their different events like wedding, birthday party, bachelorette party and other events.  Travel by a charter bus can be pleasurable, if the bus company provide very good condition to stay in the bus for long journey. When you have fresh and comfortable environment in the charter Bus you can take a short nap. You can't be worry about safety and security while you and your friends group sitting in a relaxed way.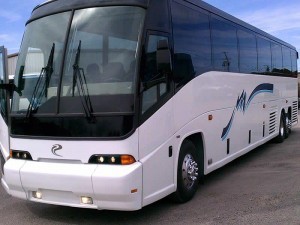 Limos Inn provides extra ordinary Charter bus service Chicago and surrounding area. Clients consider Limos Inn top Charter Bus Company in Chicago because of facilities provided by them. You are able to carry 45 to 60 passengers in one time and when you are planning to travel with your family, you will not be required to get scatter and travel. You can hire Limos inn in Chicago four family trips or for professional trip.
Contact Limos Inn today and get the best Price for Chicago Limo bus plan or Motor coach service for your Group transportation service in Chicago. No. 1 Charter bus and shuttle coach service Chicago for your large group transportation with the assurance of professional, fast, safe and secure Limo bus service in Chicago. Call today +1-312-265-6322 or visit limosinn.com