Whenever Limousine comes in the mind mostly people think this is a symbol of a luxury vehicle, transportation for the wedding or proms.  Someone may not think that this is a great option for a work purpose. Many people hiring limo for their work related. Someone can hire limo for their clients, someone can hire for business meetings etc. here we collaborating some situations in which limo can be good and reliable way for work related transport.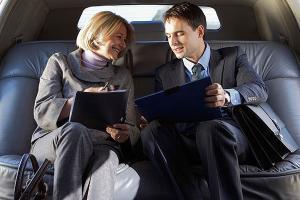 Meeting on the Way
First impressions are really important. And there aren't many ways in which to make a bigger splash than by arriving somewhere in a limousine. If you are on the way in a major meeting with a big contract on the line, you can make it more interesting. You can hire a limousine and arrive in style to let those you're meeting with see that you mean business. You'll also benefit from some quiet time by yourself or with your team to strategize and calmly prepare for the meeting.
Entertain your Clients
Building relationships is an important aspect in every business. Whether you're going to watch a game in stadium or dining at a fine restaurant, this may be a very important impression for clients and partners. A little effort can go a long way when it comes to cementing a prosperous, long-term relationship with a business client. Renting a limo for the afternoon or evening shows that, in addition to your qualifications, you also place a high value on having a good time and accommodating guests.
Pleasant Business Trip
Traveling for a long time may be boring and exhausting, especially if you do it regularly. If you choose your vehicle wisely than it may be improve your journey. The great way to improve this is by traveling in luxury and comfort to and from the airport. Getting to sit back and relax can make a big difference in getting your trip started in a pleasant way.  If you're used to dealing with traffic and the hassle of parking and getting to your terminal, it is a huge relief to be able to leave the most stressful components of traveling to the professionals.
Outing with your colleagues
Everyone needs a relaxing and entertain time with their coworkers. There's hardly a better way to get where you're going than on a Limo party bus. Designed to maximize fun, these vehicles are equipped with a top quality stereo system, wines, accessories and a full bar. This is the best way to party on the way to the party, look no further. This way you can your employees how much you care and appreciate them.
So are you going for meeting with clients? Ready to welcome your valuable clients? Or outing with coworkers. Choose Limos Inn which has huge variety of top notch vehicles able to take your occasion to the next level. Visit Limos Inn and take a look at our specials and book your Limo Today!