You are planning a road show? To stick to the schedule is the highest priority?
Whether transporting a CEO or an entire Board of Directors, you need a dedicated team of experts who are well-versed in the intricacies of Road Show clients' needs and are able to create a detailed itinerary along with a contingency plan for handling last-minute changes.
Features of Road show Limousine services:
Monitoring:  coordinator of a road show should watch the trip in real time; he or she must be assuring chauffeurs are covering the time as they are supposed to be, precisely when they are supposed to be there.
Adjustable: Road Show team should have an adjustable plan. As itinerary changes as they are communicated, and acts as a liaison between passengers, travel arrangers, chauffeurs, and dispatch.
Route-Planning: A limousine Agency should be map out the routes even before a Road Show begins; it should be coordinated by event planners to ensure all participants have a comprehensive understanding of drive times between locations on an itinerary.
Professional Chauffeurs: All Road Show reservations should be assigned to experienced professional chauffeurs. Your chauffeur must drive you safely to your next appointment. During standing time chauffeurs are pleased to carry out an errand for you.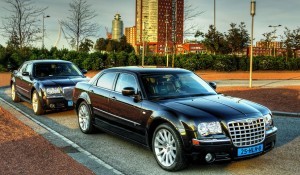 Chicago Limos Inn offer road show services that are pleased to provide several vehicles to guarantee a smooth operation. Limos Inn coordinating the different vehicles at the different destinations, so that you can enjoy the same accustomed comfort at every destination. We are pleased to provide small snacks to eat during the drive. If the time before your departure doesn't allow a breakfast, you can enjoy a small breakfast aboard. For preparation of your internal road show time schedule you will receive the driver's details in good time. We are always working proactively and will inform you immediately about closures or strikes, so that we can react at short notice.
Chicago Limos Inn specializes in providing clients with seamless transportation services, making their days on the road stress free. Our team of transportation experts will assist you in planning your road show event and assuring that all arrangements are in proper order for departure. Call us today +1-312-265-6322 or visit https://www.limosinn.com