Summer is at its peak which means weddings, vacations, parties, and festivals are all in full swing. We get roughly four months of real summer in Chicago. The most important thing is transportation that gets you from your location to your destination. You definitely would like to have convened to get hassle free transportation to make your summer enjoyable. Book most reliable Limo Company for this summer to plan your trip and enjoy seamless Limo service.
Here we brings are some reasons you should use a limousine to get around this summer.
Beer Festivals
Summer is often a time for craft breweries to feature new or specialty brews in tandem with autumn's equally-amber coloring. The Beer festival is a great opportunity to get a group together and not have to worry about a designated driver. Chicago Limos Inn Predictable rates will ensure your group travels within your requirements that mean not last minute Uber or taxi rides and not negotiating split rates. A limo will transport you at designated location and time for your convenience.
Sporting Events
For sports fans there is nothing like summer football season. Chicago is a hub for this kind of sports lover and summer season is crowd creator. You can pregame responsibly with friends and family while enjoying the cityscapes of sweet home Chicago. Chicago Limo will add an extra flavor in your sport test. You will be picked up after the game accordingly to avoid the mass rush to the parking lot.
Football isn't the only sport to get excited about… Hockey season is also upon us! you can plan your trip and book city limo in Chicago for excited entry.
Millennium Park Concerts
Millennium Park Concerts is popular activity for Chicago people. When the weather warms up, Millennium Park becomes hosts one of Chicago's most beloved summer traditions: the Millennium Park Summer Music Series. People come with their picnic baskets, booze and lawn chairs to the venue's lawn, where they can sit back, relax and take in an evening of free music. Think of it as a three-month-long summer music festival without the porta-potty lines and overpriced concessions.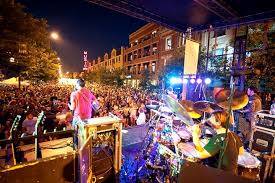 Outdoor theater in Chicago
Luckily, you can count outdoor theater as one of the best things to do in the summer in Chicago and its suburbs. The season brings with it plenty of opportunities to take in a play under the sun or the stars. There's plenty of family-friendly outdoor theater to choose from this summer, including plenty of Shakespeare and some more contemporary performance too.
Summer is here not for long; you can take full advantage by making memories and enjoying yourself. Take full advantage of the nice weather, get out, and have fun! Chicago Limo is a fun way for a group of friends or family to get to your destination and enjoy each other's company. Book a luxury limo contacting Chicago Limos Inn; they are best City Limo in Chicago. Make every moment count this summer.