Chicago, Illinois is the third-largest city in the United States and a known as a major transportation business hub. Chicago touring is an ultimate experience of life and it can be memorable with luxury travel experience while you choose best suitable Limo service of Chicago. Chicago Limo is also an attraction of the city itself. Chicago land areas which experience a great deal of tourism also have traffic and parking congestion.  However, touring Chicago with hiring a limo makes it possible to efficient use of time, parking facility, and also for the stylish visit at the destination.
Limousine service in Chicago is a world class Renting service for Local travel. Limo Car, SUV, vans, Charter bus or motor coaches are the great option to visit everything that Chicago has to offer.
Chicago is very popular in the world for its amazing life style, culture, touring spots, well known and amazing architectural work. When traveling to city of Chicago or if you are staying there, make sure you don't miss to experience breathtaking views of the spectacular city's skyline and Lake Michigan. There are two great spots to do just that and they are a mile and a half away from each other.
360 CHICAGO
360 CHICAGO deck located 1000 feet above the famed Magnificent Mile in the iconic John Hancock Building, offers breathtaking 360 degrees views of the city skyline and Lake Michigan. 360 Chicago observation deck is also home of TILT – Chicago's highest thrill ride – an enclosed moving platform that literally tilts you out over Michigan Avenue from the 94th Floor. With its many interactive learning opportunities on the city's rich history, colorful neighborhoods and its iconic architecture, along with a modern Bar and Café where you can relax and enjoy the best views of the city, 360 CHICAGO is the perfect place to enjoy an unforgettable experience.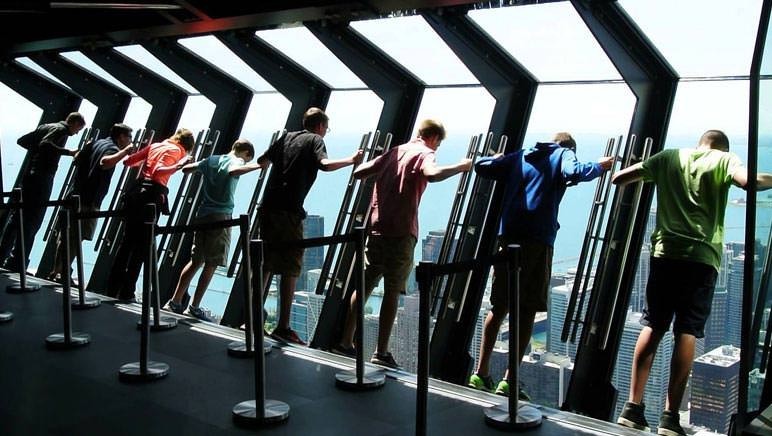 City of Chicago Skydeck
Skydeck Opened in 1974, it attracts more than 2 million visitors per year who enjoy views of up to 50 miles and four states. Now, The Ledge dares visitors to attempt a new Chicago experience: stand on The Ledge and feel the city from 103 floors over Wacker Drive and the Chicago River.
To get to the Skydeck, you will need to go up to the 103rd floor of the Willis Tower, which was once the tallest building in the world. In just 60 seconds you will get to the top by elevator, feeling the pressure changing as you go up. Soon you will be 1,353 feet above the ground and from there you will not only be able to see across the state of Illinois, but also across Lake Michigan and beyond, all the way to the states of Indiana, Michigan and Wisconsin. If you are flexible with your schedule, the weather should be clear keeping this in mind.
Traveler who visits to Chicago needed to travel in luxury and comfort, with all the amenities! If you want a fully accomplished tour in Chicago then you need to just a call to Chicago Limos inn. If you are planning your group tour for Chicago sightseeing then you need to leave your transportation worry on most trusted Limo Company in Chicago. Book your Chicago tour today!! https://www.limosinn.com/reservations Limos inn also offer Airport transportation, Business packages, Wedding packages, Prom Limo, Charter buses and much more.