Are you going for a travel with your family? Or even just a weekend getaway? Booking a Limo for airport transportation is way to stress free start. O'Hare and Midway are two busiest airport in USA and hard enough to get to. You would not like to be late for your flight and any other mess while you began your travel.
We brought here some simple tips to follow while traveling to airport or from airport.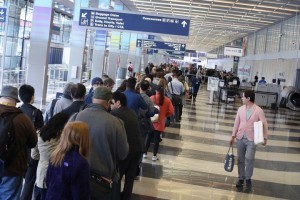 Reach on the time for International Flights
When you are going to take International flight, you need to make sure for enough time not only for traffic but also other airport formalities like each security checkpoint. Checking your bags, validating your passport, and waiting in the security line will most likely take longer than you'd expect.
Such airport have multiple terminals for International flights so make sure with driver which airline you're taking so they know at which spot to drop you off.
Check correct time of your Flight schedule
Your flight schedules may change. Chicago Limos Inn support team can help you any time to leave or receive you on correct time, if your flight is moved up or delayed significantly for some reason.  Unfortunately if your flight is cancelled and rescheduled for another day, we can arrange new schedule for your pickup date and time.
Keep a copy of Confirmation number and information
You always would like to have journey with error free schedule, but mistakes may do happen by human. Recheck you booking with Chicago Limos Inn support team, don't let mix ups with bookings. Keep a Print out your confirmation number and reservation information to avoid any potential confusion.
Provide Alternative numbers to Limo Service
You are traveling abroad then you have limitation to communicate, Give the limo service the phone number you would like to be reached at while traveling. Limo service should be able to call you with any questions regarding your booking or specific pick up location. You can provide number of other family members you are traveling with. Just in case one malfunction and you have to provide the limo driver with a different number.
Inform your Driver about your meet point
Some time you feel little messy when searching your Chauffeur on the airport. Chauffeurs are not allowed pass some security checkpoints due to regulations made for security.  If you would prefer to meet at another location, let your driver know. Otherwise, the easiest way for your driver to get you is to meet you in baggage claim.
Book Limo with Same agency for both Side travel
Book Airport Limo Service at Chicago Limos Inn for your departure and return you will get a discount that will save both money and time. Chicago Limos Inn have special plan and packages to ensure you travel with peace of mind. Extra ordinary Limo service for your family, modern charter buses for group travel you can rely on our drivers to navigate Chicago with ease.
After your long air journey we serve light snacks and drinks in the Limo to relax you. Chicago Limos Inn looks to make it a pleasant travel experience by adding luxury to your travels. Call us today!! +1-312-265-6322 – visit our Facebook page- https://www.facebook.com/ChicagoLimosInn